Line 23:
Line 23:
 

== Trivia ==

 

== Trivia ==

 
 
−

<ul><li>A running joke between [[Team Zlayerz]] and [[Team Mongoose]] has Cutie Honey the "life partner" of [[Kraze]], and [[Frequency]] being their child.</li>

+

A running joke between [[Team Zlayerz]] and [[Team Mongoose]] has Cutie Honey the "life partner" of [[Kraze]], and [[Frequency]] being their child.

 
+

*Cutie Honey's greatest rival is S.O.T.A.R.

−

<li>Despite this, Cutie Honey's biggest rivals are [[Camo Alert]] and [[Revolver Ocelot]], having met them twice before.</li>

 
−

<li>Name inspiration: [http://en.wikipedia.org/wiki/Cutie_Honey Cutie Honey] from the series of the same name, specifically her ''Re:'' incarnation. Because Kody loves his fembots. :P</li>

+

Name inspiration: [http://en.wikipedia.org/wiki/Cutie_Honey Cutie Honey] from the series of the same name, specifically her ''Re:'' incarnation. Because Kody loves his fembots. :P

−

<li>Theme: "Love Bites (So Do I)" from female-fronted rock artist [http://en.wikipedia.org/wiki/Halestorm Halestorm].</li></ul>

+

Theme: "Love Bites (So Do I)" from female-fronted rock artist [http://en.wikipedia.org/wiki/Halestorm Halestorm].

 

[[Category:Heavyweight Robots]]

 

[[Category:Heavyweight Robots]]

 

[[Category:Heavyweight Champions]]

 

[[Category:Heavyweight Champions]]
---
Revision as of 14:44, 31 January 2014
Cutie Honey

Doesn't she look adorable? Err, okay, maybe not.
Team Information
Team
Team Zlayerz
Robot Statistics
Weapons
Pneumatic flipper, thwacking spikes.

Robot statistics correct as of its most recent competition

Cutie Honey is a Heavyweight flipper created by KodeBreaker of Team Zlayerz, continuing his tradition of entering fembots every tournament since ARC: Aftermath. The current version looks similar to the current version of John Findlay's robot, Ripper. The differences are the wedge feet in front, and the side thwacking spikes.
The first version of Cutie Honey was almost completely a clone of the 2012 version of Ripper. The things that set them apart, besides name and paintjob, were the ground clearance, the spikes attached to the flipper, and the rounded rear end for easier self-righting.
Cutie Honey is the division champion of Ruination: The Beginning, and made an unbeaten regular season run to the quarter-finals of Ruination: The Omen, being knocked out by Team Alt's ring spinner, S.O.T.A.R.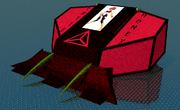 Overall Record
Trivia
A running joke between Team Zlayerz and Team Mongoose has Cutie Honey the "life partner" of Kraze, and Frequency being their child.
Cutie Honey's greatest rival is S.O.T.A.R.
Name inspiration: Cutie Honey from the series of the same name, specifically her Re: incarnation. Because Kody loves his fembots. :P
Theme: "Love Bites (So Do I)" from female-fronted rock artist Halestorm.