Heretic



What's it like to be a heretic?

Team Information
Team
Team Covenant
Robot Statistics
Weapons
Thwacking arm, horizontal blade

Robot statistics correct as of its most recent competition

Heretic is a Featherweight robot created by KodeBreaker of Team Covenant.
The first iteration, a dumb thwack with a blade on the end of the thwack arm, competed solely on the Fighting Robot Assocation forum and garnered some respect by making it to the finals of the Pussycat Tribute Tournament: Regeneration.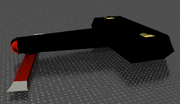 The second iteration was made approximately 7 years after, and took part in Cherry Bomb Classic. For this iteration, the thwack and horizontal blade were on different ends of the robot. It did not get a single win and is largely considered a failure.
Heretic is unlikely to return.
Overall Record
[
]
Trivia
[
]
Heretic's theme song is, fittingly, "The Heretic Anthem" by Slipknot.