Jurassic World: Dominion Dominates Fandom Wikis - The Loop
Play Sound
Influenza
Team Information
Team
Team Yellow Alert
Robot Statistics
Weight Class
Middleweight
Weapons
Spinning Trifoil Bar

Robot statistics correct as of its most recent competition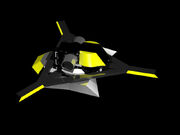 Influenza is a full-body spinner designed by Spatula of Team Yellow Alert. It was the first robot from the team to make the playoffs, and as of January 2014 it has the highest win rate of any bot on the team. Influenza has also qualified for the playoffs in all three competitions it entered, making it to the finals during the League of Robotic Excellence--becoming the first walker to do so.
The design, which features a unique single-plane trifoil, allows for a tremendous amount of range on its weapon. This range often gives Influenza an edge against other spinners, as well as wedges that normally try to counter full-body spinners.
In 2013, it was converted into a walker, allowing it to reap the benefits of the walker weight bonus in LORE. The conversion went well for the robot, as it became the first walker to qualify for the playoffs in an ARC competition.
Origins
[
]
Influenza first started competing in late 2003. At a time when Mass Destruction Ultimate was utilizing the Robot Wars walker rules to rack up win after win, Influenza was designed as an 'anti-MDU' spinner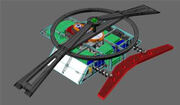 with a large bar on the front that could fit between MDU's teeth without making contact. This weapon became infamously known as the 'lobster magnet'. While the device worked, and allowed the robot to survive to a judge's decision against its foe, it was unable to push the twice-as-heavy walker with the low priority on its drivetrain and lost. As a powerful spinner in its own right, Influenza still found success on FRA, placing 4th in one of Velociraptor's tournaments.
Influenza was modified into a trifoil spinner in 2006, and its weapon housing was moved to an upper pod above the weapon's plane of motion, to allow the robot a powerful weapon that could hit low wedges, but operate on one plane (eliminating the structural stresses and inefficiencies of a cage spinner).
After switching to ARC, Influenza found itself as the only robot on Spatula's team whose design translated easily into the new stat system, and it gave Team Yellow Alert a place in the semifinals in ARC: Revolution as well as ARC: Redemption.
Success
[
]
With a record of 25-8, Influenza has the highest win/loss ratio of any of Team Yellow Alert's bots and one of the highest on ARC for any bot to compete multiple seasons. With 14 career knockouts, it is in the top 10 robots with the highest number of knockouts. 55% of its wins have been knockouts, and five of its seven losses have been close decisions. So far, in 33 matches, only two opponents have knocked Influenza out.
Influenza: 25-8
[
]
| Competition | Opponent | | | | | | | | | | | |
| --- | --- | --- | --- | --- | --- | --- | --- | --- | --- | --- | --- | --- |
| ARC Revolution: | The Aristocrats | Bling 2K | AMP | Disc Obsession | Rooster Teeth | FBSDS | Sovearound 2 | JAKT | Heartbreak And Hate | Sunshine | Shockwave | Heartbreak And Hate |
| | Loss, 24-21 | Win, CT | Win, KO | Win, 31-14 | Win, KO | Loss, KO | Win, 25-20 | Win, KO | Win, KO | Loss, KO | Win, 26-19 | Loss, 23-22 |
| ARC Redemption: | Warper | Rooster Teeth | Barrier | POPR | An Albatross | Heartbreak and Hate | AMP | Scorpion Bite | Tiki Dude | AMP | | |
| | Win, KO | Win, KO | Loss, 27-18 | Win, KO | Win, KO | Win, 25-20 | Win, KO | Win, KO | Win, FF | Loss, 25-20 | | |
| League of Robotic Excellence: | SWARM | Sword of Justice | Terminus | WhipCoil | Handle With Care | Automaton | Golden Destiny 2 | Good For It | Caliente | Caliente | Luna | |
| | Loss, 23-22 | Win, KO | Win, KO | Win, 25-20 | Win, FF | Win, 23-22 | Win, KO | Win, KO | Win, 27-18 | Win, 22-23 | Loss, 26-18 | |