Kraze




The most recent version of Kraze

Team Information
Team
Team Mongoose
Robot Statistics
Weapons
Four-bar flipper

Robot statistics correct as of its most recent competition

Kraze is a four-bar flipper robot, created by Team Mongoose. It can be considered Team Mongoose's flagship robot.
Kraze's design has changed considerably throughout its existence, starting out as a simpler, box-wedge design, before the chassis was completely reshaped, and additions such as hinged skirting and an underside suction fan were added. For its latest incarnation, the hinged wedge was removed from the front, and the flipper extended to reach the floor. The front end was also made into a more concave shape, in an effort to better fight spinners, and a pair of antenna were added to the tips of the horns. These hark back to the antenna Kraze sported when it made its first appearance in ARC Armageddon.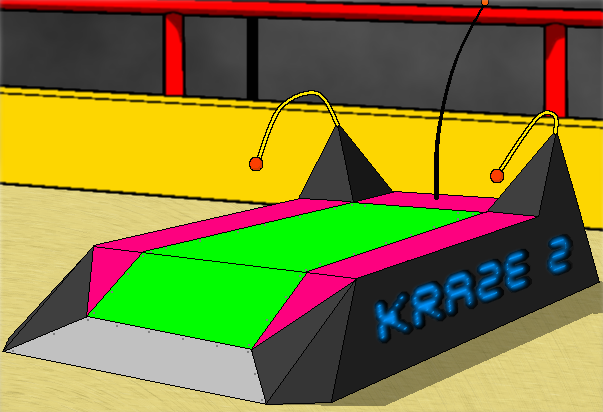 Kraze made its debut in the ARC Armageddon tournament, before Nick fully understood the rules and regulations. Despite this, Kraze performed admirably, falling in a very close decision to Vertigo in its debut, and showing good resiliency in never losing a match by KO during the season. In the final week of the season, it faced the veteran Adrenaline, and won an upset 23-22 decision to advance to the playoffs in its rookie season. However, it was then defeated in convincing style by eventual champion Tank.
It returned in FRR: Dead Zone, with a redesigned chassis, hinged skirts on the front and rear, plus the underside suction fan that would become its calling card. It was considered a dark horse, after its performance in ARC Armageddon, but the stat system had been given some major changes for this tournament, and Kraze seemed to be very well suited to them. It was here Kraze embarked on its surprising nine-week unbeaten run, defeating machines such as Atilla, Punch Buggy, and the veteran Blood Thirsty in a 23-22 decision. It faced Slasher in the final week for the #1 spot in the division, but lost a close decision. It faced Blood Thirsty in the semi-finals, this time losing a 23-22 decision. Nick has said that Kraze vs. Blood Thirsty III is the CFL match he is most looking forward to, but given Team Hunga's apparent retirement, that match seems unlikely to happen..
Ruination: The Beginning marked Kraze's third tournament, where it now featured hinged skirting on all sides. It again performed well, only losing once in the main season, and earning the #1 seed for the playoffs. It then faced Revolver Ocelot in the semi-finals, and again lost, giving Kraze an 0-3 record in playoff matches. Kraze was then entered pretty much unchanged into Ruination: The Omen, but faced numerous tough spinners, which it was becoming apparent Kraze was poorly designed to fight. This resulted in Kraze failing to make the playoffs for the first time ever.
Overall Record
Trivia
Kraze, along with Cutie Honey of Team Zlayerz, is considered to be the father of Frequency. This was explicitly mentioned in Kraze's final RP of Ruination: The Omen.
Kraze's theme song is Chevelle's "The Fad". This was recommended by Kody of Team Zlayerz.
Kraze's newest design features an erratically striped paint scheme on the flipper, known as "Dazzle Paint". This was inspired by the unique, disorienting camouflage applied to naval warships before the invention of radar.