Lethal Injection



Lethal Injection

Team Information
Team
Ice Cubed Robotics
Robot Statistics
Weapons
Interchangeable electric-driven Lifter and rear Wedge.

Robot statistics correct as of its most recent competition

Lethal Injection is a Super Heavyweight Lifter/Rammer built by GF93 of Ice Cubed Robotics. The first Super Heavyweight entered by the team, it is a low, box-shaped design, running on four-wheel drive for optimal control and torque, and later outfitted with thick armour for improved resistance to spinners.
Along with a hinged Wedge at the rear for additional protection if necessary, its primary weapon is a front-mounted, electric-driven Lifter with Interchangeable weapons, and the ability to rotate over 180 degrees, allowing it to function the same regardless of if it is flipped over or not. Its first and standard configuration is a pair of long Spikes, which are suited for impaling foes and dragging them around. However, their long and thin configuration made them easy to bend, and therefore less-suited to opponents with powerful weaponry. In response, a new weapon in the form of a flat Anti-Spinner Plate was created for its run in Ruination: The Beginning- this was a flat, solid plate that was designed to slip under horizontal spinners and generally be harder to damage than the spikes. Whilst an effective weapon, it proved harder to gain purchase on opponents with.
Whilst a solid design, Lethal Injection was not statted as well as it could have been in its first appearance in FRR: Dead Zone, having low armour and wedge values, and notoriously weak weapon power. Whilst it did win four matches, it ultimately finished with five losses as well. However, it did make a return appearance in Ruination: The Beginning, with improved stats- whilst slightly slower, it had improved all-round armour, better wedges, and a much more powerful Lifter, which was now interchangeable with the flat Anti-Spinner Plate. Here, its performance improved greatly, becoming the second Ice Cubed Robotics machine to make it to the Playoffs. Although it put up a good fight, it ultimately lost out to Tax Cutter, taking Third Place overall for the Super Heavyweight Division.
The original version of Lethal Injection has since been retired, but a new version of it, Lethal Injection 2, competed in Ruination: The Omen. Its improvements included a shorter and wider wheelbase to make it easier to control, better speed and traction from new motors, better protection from new side skirts and a redesigned reversible rear wedge, and a new plethora of interchangeable weaponry. Whilst maintaining the flat Anti-Spinner Plate from the previous version, it also had the choice of shorter and thicker Spikes with bladed tips for additional toughness and damage potential, and a thick armoured scoop for handling more powerful spinners and rammers .
Results
[
]
Ruination: The Beginning- Third Place, Super Heavyweight Division (Lost to Tax Cutter), Ruination: The Omen- Perfect Season, Last Eight, Superheavyweight Division (Lost to Curse of the Deep)
Wins- 20 Losses- 11
Biggest Rival- Tax Cutter
Theme- Lethal Injection, Soulfly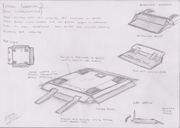 Trivia
[
]
Lethal Injection is named after the execution method of the same name.
Lethal Injection developed quite a rivalry with Tax Cutter over the course of Ruination: The Beginning. It lost to it once in the Qualifiers, before being beaten by it again in the Playoffs. However, it was later avenged by its teammate Black Mamba, who was able to beat it in Crazy Bots Blazing Ruin.
Lethal Injection was the first and is to date the only one of Ice Cubed Robotics' machines to obtain 20 wins, as well as a perfect season.