(9 intermediate revisions by 2 users not shown)
Line 1:
Line 1:
 

{{RobotStats

 

{{RobotStats

 

|robot_name= Luna

 

|robot_name= Luna

−

|image= [[File:Luna.png|250px]]

+

|image= [[File:.png|250px]]

−

|caption= Luna

+

|caption= Luna

−

|team= [[Team Zlayerz]]

+

|team= [[Team ]]

 

|weightclass= Middleweight

 

|weightclass= Middleweight

−

|weapons= Spinning ring with 3 teeth placed equilateral to each other and at different heights.

+

|weapons= Spinning ring with teeth and .

 

}}

 

}}

 
 
−

'''Luna''' is a middleweight ring spinner created by KodeBreaker of [[Team Zlayerz]]. She features three blades on her inch-thick ring - one as an undercutting blade to defeat wedges, one in the middle to defeat punchers, spikes, and other "middle" weaponry, and an overcutting tooth to combat axes and other overhead weaponry. Division finalist of [[Ruination: The Beginning]], she has the most knockouts of any member on her team, at 8.

+

'''Luna''' is a middleweight ring spinner created by KodeBreaker of [[Team ]]. She - the , and . the .

 
+
 
+

Luna competed in [[Ruination: The Beginning]], [[League of Robotic Excellence]], and [[Robot Bastards]], the latter in her second version. She only has one crown, but currently holds the most number of KOs for one bot on Team Covenant at 12.

 
+
 
+

[[File:Luna.png|thumb|The original Luna.]]

 
 
 

==Robot History==

 

==Robot History==

Line 24:
Line 28:
 

(to be completed)

 

(to be completed)

 
 
 
+

== Overall Record ==

−

==Wins/Losses==

 
−

*Wins: 15

+

*Wins:

−

*Losses: 3

+

*Losses:

−
 
⚫
 
−
 
⚫
 
−
 
⚫
 
 
 
 
⚫
⚫
 
 
⚫
 
⚫
 
⚫
 

[[Category:Competitor Robots]]

 

[[Category:Competitor Robots]]

 

[[Category:Middleweight Robots]]

 

[[Category:Middleweight Robots]]

 
+

[[Category:Robots armed with Spinning Weapons]]

 
+

[[Category:Middleweight Champions]]
---
Latest revision as of 16:58, 22 February 2015
Luna

Luna II
Team Information
Team
Team Covenant
Robot Statistics
Weapons
Spinning ring with 2 interchangeable teeth and 2 solid 'knockers'.

Robot statistics correct as of its most recent competition

Luna is a middleweight ring spinner created by KodeBreaker of Team Covenant. She's a 4WD ring spinner with two different tooth set-ups; really low curved ones, and wedgy ones for sending bots flying into the air. She also has adjacent hammers on as well, as a precautionary measure for other horizontal spinners, and most axes. Luna can even start inverted to thwart the long-range and big axe-head overhead weapons, and can also spin the other way for whatever reason.
Luna competed in Ruination: The Beginning, League of Robotic Excellence, and Robot Bastards, the latter in her second version. She only has one crown, but currently holds the most number of KOs for one bot on Team Covenant at 12.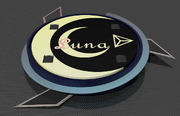 Robot History[]
League of Robotic Excellence[]
Luna's first opponent was Give Way with Give Way charging towards it. They both collide causing Luna to fling into the arena spikes, but the flywheel takes out Give Way's weaponry. It quickly wedges Luna and drags it out of the spikes to the arena drum causing Luna to fly across the arena. It spins up and hits the wedge of Give Way, sending it away. Luna then takes out one of the wheels of Give Way, it goes around it for an attack as Give Way tries to dodge but another wheel is torn off. Give Way is left immobile and is counted out. The next match was against Golden Destiny 2. Golden Destiny 2 goes for a quick tackle as Luna drives to the centre, it takes out Golden Destiny 2's front armour and tries to attack Luna again. Luna hits it again and rips out one of the drive motors, it hits it one more time before it's counted out.
The third week match was against Automaton, with Automaton wedging Luna but slightly hits Automaton's wheels. Luna gets stuck on Automaton's flipper and shreds the armour of it for the remainder of the match. Automaton shoves it into the arena spikes a couple of times before cease is called, with Luna winning via a 25-20 judges' decision. The next opponent was Terminus, with both robots being cautious of the other. Luna makes the move by attacking the plow of Terminus a number of times, Luna swiftly gives a hit to the side and the plow, until Terminus wedges Luna and axes the top of it followed by a slam into the arena wall, briefly stopping Luna from spinning. It escapes before spinning again and hits Terminus on its side before cease is called. Luna wins the match on a 23-22 split decision.
Luna's next match was against Caliente. Caliente drives cautiously towards Luna as it tries for a wheel attack, but dodges the number of attempts. Luna then hits Caliente's flipper sending Luna flinging in the air and Caliente skidding across the floor. Both robots then started to chase each other, like cat and mouse before Luna gradually shreds the armour of Caliente. Caliente then drives Luna into the arena wall and hold it there, causing Luna to stop spinning and rams into it before cease is called. Caliente wins the match via a 23-22 split judges' decision, giving Luna its first loss. The week 6 opponent was Harbinger and both robots straight away charge to the centre, Harbinger starts spinning but is immediately hit with a shot to the armour. A second hit takes out a part of Harbinger's weaponry but it continues to spin on the spot. Harbinger defends itself before Luna fully takes out the bottom of its weaponry. Harbinger begins to get counted out but successfully avoids it, Luna tackles it again taking out a part of the armour, Harbinger continues to spin but slowly until Luna immobilizes it with one more hit, causing it to be counted out.
Luna's next match was against Good For It, with Good For It trying to take out Luna straight away with its flywheel attacks. It sends Luna skidding across the floor but Good For It's shots turns itself away and Luna takes advantage with hits to the back armour, it drives towards a wheel and breaks it off, and immobilizes Good For It getting it counted out. Luna is scheduled to fight against SWARM.
(to be completed)
Overall Record[]
Trivia[]
Luna's name comes from the character of the same name from Soul Calibur 3's Chronicles of the Sword mode.
Luna's biggest rival is Braveheart.
Theme: "Living After Midnight" by Judas Priest