No Exit



No Exit in its most recent guise

Team Information
Team
Team Mongoose
Robot Statistics
Weapons
Flipping arm & bollards

Robot statistics correct as of its most recent competition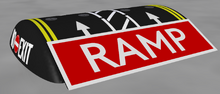 No Exit is a lightweight robot with a double-sided flipping arm, created by Team Mongoose.
The robot was designed around the theme of roadways. Along with having the shape of a speed bump, there are also road markings adorning the robot, along with lights designed to resemble Cat's Eyes (Botts' Dots in the US). It also features an anti-spinner attachment in the style of a "RAMP" temporary roadsign, along with bollards that can be raised and lowered to prevent monster trucking.
It made its competitive debut in Robot Bastards, where it fared comparatively poorly, going 5-7 in season and failing to make the playoffs. It made its return in the Cherry Bomb Classic, where it was surprisingly ranked 4th in the division. It finished 2nd overall in its group, defeating DumboLITE in the playoffs, before losing to Captain Trips in the quarter-finals. Despite being the worst performing robot from Team Mongoose in the tournament, it still finished with a strong 5-2 record.
Overall Record
[
]