Team Blood Gulch is the first and only team in ARC history to make all four finals in a tournament and then be eliminated in each of them, and ever since then it has gone on to have an illustrious career with many other famous second place finishings throughout its history. Despite having more regular season wins than any other team (because ARC rewards participation, and that is the only thing NWOWWE is good at), NWOWWE gets very mad when his crudely drawn MS Paints fail to win more often.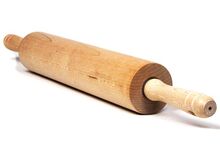 One particular pillar of salt is the disputed effectiveness of Tali'-Zorah. A bot with an unpowered rolling drum on the front that was intended to... roll over opponents. Bear in mind it did not weigh 20 times more than its opponents--in fact all robots on ARC have to compete in the same weight limit, so this strategy was questionable.
Other famous robots on this team include Clown Breath: a poor man's version of Influenza, and Sarge: a poor man's version of Sarge. Don't forget about Zombie Killer, who is stuck on his side to this very day.
Return to The Salt Mines