Wyvern




Because springs are cool

Team Information
Team
Angry Goat Robotics
Robot Statistics
Weight Class
Sportsman/Featherweight
Weapons
Rear Hinged Flipper (spring powered), Thwacking tail

Robot statistics correct as of its most recent competition
Wyvern is a 2WD flipper created by Angry Goat Robotics to compete in the Sportsman Class of Bot-O-Rama 2016, a relatively unique competition focused on lighter weight classes. Taking advantage of the opportunity to not have to worry about spinners, the great minds of Angry Goat Robotics decided to utilize a design that The Angry Goat had wanted to use, but hadn't see an effective way to apply it. And thus, the Spring-catapult flipper was born. it also has a thwack tail because it makes it look cooler. Despite being one of the most feared robots in the Sportsman division, Wyvern failed to proceed past the Quarterfinals after losing a highly controversial match to Team Cardboard Pony's The Horny One.
2-2 (Bot-O-Rama 2016)
Rumble Winner (Bot-O-Rama 2016)
-Usually The_Angry_Goat is relatively unfamiliar with the specific technology and equipment used in combat robots, but Wyvern is an exception, as he has worked with spring catapults before.
-Wyvern is named after Wyverns because they're really frikin cool. GF93 of Ice Cubed Robotics helped me pick the name, because man am I bad at naming stuff.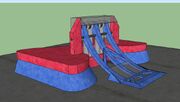 -Early on, Angry Goat robotics prototyped a robot called ARC Space Programme that utilized the same idea (spring powered catapult). It was pretty bad, other than that, hence why it has never competed
-Gabe still protests its loss in the Quarterfinals of Bot-O-Rama :v
Community content is available under
CC-BY-SA
unless otherwise noted.